DIG-CCCV-15W:
Programmable Digital Constant Current Constant Voltage Power Supply with Status Relay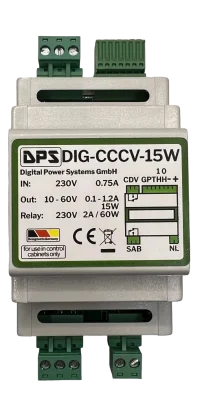 Features:
Ultra Long Life Design,
without electrolytic capacitors
Digital Programmable
Output Voltage: 10V – 60V
Up to 1.2 A output current
Up to 15 W output power
Status Relay (Programmable)
Output Disable & Power Off
Resilient Design
Supports GPS-Synchronized-Blinking
Product description
The DIG-CCCV-15W power supply is a member of Ultra-Long-Life Family, avoiding failure prone electrolytic capacitors. It features a wide output voltage range from 10 V to 60 V with output currents of up to 1.2 A at max. 15 W output power.
Output currents and voltages can be programmed by setting the hardware pins or by software. The power supply offers an internal and external blinkmode.
The device is resilient to typical operating failures: Input reverse polarity, output short circuit, open circuit, moderate input transients and moderate output transients.
The device offers solid output current stability over the complete input voltage range. The device may be operated at ambient temperatures between -40°C und 50°C.